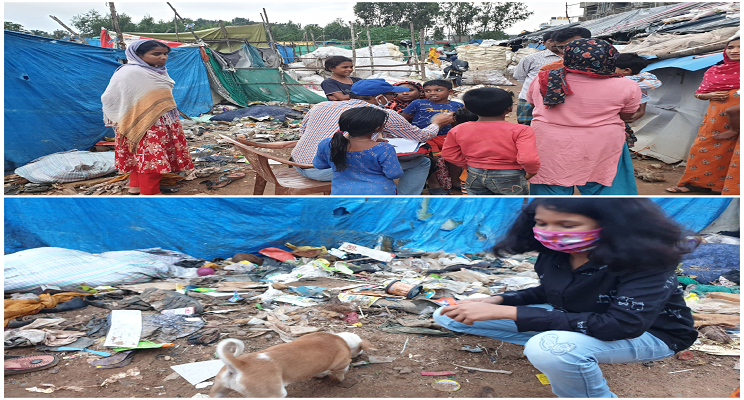 A Chinese proverb means, one can judge a person's character by a piece of evidence. In most of our languages, a similar proverb is used in the conversation. I will jump to quote one in Tamil, "Checking a peck of rice is enough to find a pot of rice cooked or not". The relevance of this proverb becomes more significant with an incident with a little girl I met recently.
It was time to step out to visit a slum for a medical check-up of children. The doctor reached my place with his two lovely children, a little girl and her elder brother. I was excited to see them for the first time. Together, we drove to the place for the medical camp. Some children were tiny toddlers, and others were little grown up. As they lined to meet the doctor, these two children were helping in the best possible way to support the camp.
A long shed with a tiled roof and two walls was the place these people were staying. The sign of rags around that place showed they collect these for their living. Everything was dumped, wherever possible. They lived in the midst of it. They cooked and slept in the same place with no separate enclosures. Poverty drains a person to survive in any place. A roof on the top of him is a luxury. Minimalism is out of no choice.
Every child was anaemic, as they survived on junk food that they collected from outside as leftovers. Cooking happened with a special meal on occasions when they earned some money. Not sure, whether these children are fed all three meals. None had the appetite to eat food. They ate if some food was available. The most prominent complaint from all parents was that their children don't feel hungry at all.
What we throw around as useless, makes their living. Rags to richness with little earnings they make out of it. Happiness finds its way to their home too. In spite of the adversities, these people exchanged jokes as the medical camp was going on. Laughing heartfully criticizing each other.
Let me get back to the little girl I talked about at the start. She came to me asking for a packet of biscuits, as I was distributing to other kids. She wanted to feed the little puppies in that place. I opened a packet and gave it to her. She was busy giving to three to four puppies. She came to me to hand over the empty biscuit wrapper. I said, you can drop it somewhere in the corner, as the place was already filled with wastes. She denied and said, let us take this wrapper to our home. Not to throw in their place. I was quite taken aback by her action. Still, I wonder what made her think that way. Is it purely respect for another human being and their place of living?
The child is like raw clay to be shaped how the environment the parents provide for to be. The proverb is so apt to connect with this child's act.
"It is easier to build strong children than to repair broken men".- Frederick Douglass